Oh boy ! This is a big one! I have decided to remodel my Victorian and I have a clean and ready space. I still need to finish painting the stairs but have found they are not so easy! I was going to hand paint but after taking these 'before' photos I think it will be easier to spray paint. Until taking photos of them , I really had no idea how it looked in all those tight corners! It is pretty neat and actually looks like a real house lol I hope you you have fun watching this work in progress! The outside is staying mint green unless I give in and paint it yellow! That is what I have been telling myself to do with the exterior! Who thinks I should go yellow? Or stay mint? I would love any ideas you want to throw my way for the inside. I love the cottage and shabby styles and all things feminine. My daughter is in Maine for the week and will be gone again in August so I am leaving my self no choice but to start the remodel this week! I will post updates and photos for you all to see!
The front view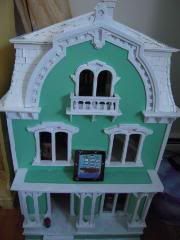 storage space under stairs
Upstairs
Family room
The stairs in the hall/ foyer
top floor landing
the lighting is not so good in this photo but I am hoping to make this the kitchen!
the images in this post are of a Victorian Doll House :)